Whiplash Treatment by Your Chiropractor in Atlanta, GA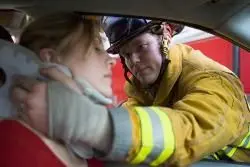 When you're involved in a car accident, it's easy to become injured and not even be aware. One of the most common injures that people sustain during auto accidents is whiplash, a painful condition of the neck that results in symptoms that can seem unconnected to one another. At Senft Chiropractic in Atlanta, we're able to easily recognize the symptoms of whiplash and have years of experience treating injured patients. We help patients every day who need to recover from their auto injuries and are seeking relief from debilitating pain.
What is Whiplash and Soft Tissue Damage?
When an auto accident occurs, the body is jerked forward while the head remains stationary. This causes a momentary hyper-extension of the muscles in the neck, ligaments and tendons. This stress is called "soft tissue damage," and it is the primary cause of whiplash. Whiplash and soft tissue damage can have many symptoms including:
Pain
Tenderness
Soreness
Stiffness
Limited range of motion
Shoulder, neck and back pain
Dizziness
Headaches
Insomnia
Anxiety
Depression
This condition, also known as "neck strain" can negatively impact your quality of life. When you have an injury of this nature, it's critically important to know where to turn.
Our Chiropractic Techniques Can Help
At Senft Chiropractic in Atlanta, we administer chiropractic techniques that help heal your injury and restore your body to its previous state. Here are just a few ways that we can help you:
Chiropractic Adjustment. Chiropractic adjustments help put the vertebrae back in place and relieve pressure on the spinal cord. This reduces inflammation and pain, corrects any subluxations in the spine, improves your range of motion and helps you start the healing process. Chiropractic adjustments are safe, gentle and often enjoyable.
Therapeutic Massage. Therapeutic massage relaxes the muscles, increases blood flow, reduces pain and helps improve range of motion. When paired with chiropractic adjustment, therapeutic massage is healing and also feels great.
Therapeutic Exercises. Therapeutic exercises help strengthen your muscles after an injury. This prevents the muscles from becoming short and tight. In addition, therapeutic exercises can be done from home, which means that you can work on your healing from the comfort of your bedroom or living room. We'll teach you to do the proper therapeutic exercises so you can take control of your own recovery.
Nutritional and lifestyle advice. We'll help you make better choices at home and at work, so you can avoid further injury.
Contact an Auto Accident Chiropractor Today
If you were recently injured in a car accident, don't wait to start showing signs of injury. Contact an auto accident chiropractor today. At Senft Chiropractic of Atlanta, we'll help you get back on your feet and relieve your pain in a way that is natural and non-invasive. Contact us today for a consultation and your first appointment immediately to get started on your journey to wellness.